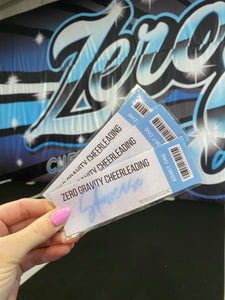 Our 2023 Semi-Competitive (CheerSPORT) showcase is coming up and we can't wait to show off our routines to all our family and friends before we attend our Spring Carnival competition!

Date: 2nd September
Where: Zero Gravity Cheerleading 9 (unit 4) Noel Rodgers Place
Athletes arrive: 4:00 - 4:10pm 
Performance Times: 5:30pm, 6:00pm and 6:30pm
Spectator ticket cost: $6
Limited to 4 spectator tickets max per athlete. PLEASE leave the athlete's name in the comments section upon ordering - we will hand their physical tickets to them in class. Tickets will need to be given at the door for entry. Athletes do not need to purchase a ticket, these are for spectators only. 

(All teams perform at every session)
5:30pm Session 1: Spectators to be seated at 5:20pm
6:00pm Session 2: Spectators to be seated approx 5:50pm
6:30pm Session 3: Spectators to be seated approx 6:20pm
Please wait for a coach to call you through to be seated.

We are so proud of the hard work all our athletes have put into learning their routines, and the dedication they have shown to their teams. After each performance Session we would like to hand out some certificates to congratulate our athletes.

Prize-giving:
After session 1's performances we will hand out certificates for team Energy (Tues 4-5pm) and team Fusion (Tues 5:15-6:15pm).
After session 2's performances we will hand out certificates for team Vortex (Mon 5:30-6:30pm) and team Atoms (Thur 3:30-4:30pm).
After session 3's performances we will hand out certificates for team Flux (Thur 5-6pm), team Kinetic (Fri 6-7pm) and team Supernova (Fri 7-8:30pm).

Tickets are limited due to gym space and seating availability. Door sales will not be available. 

MERCHANDISE: There will be a merchandise table set up in the waiting room to purchase cheer gear if you wish (bags, t-shirts, bows etc) - cash and eftpos available.